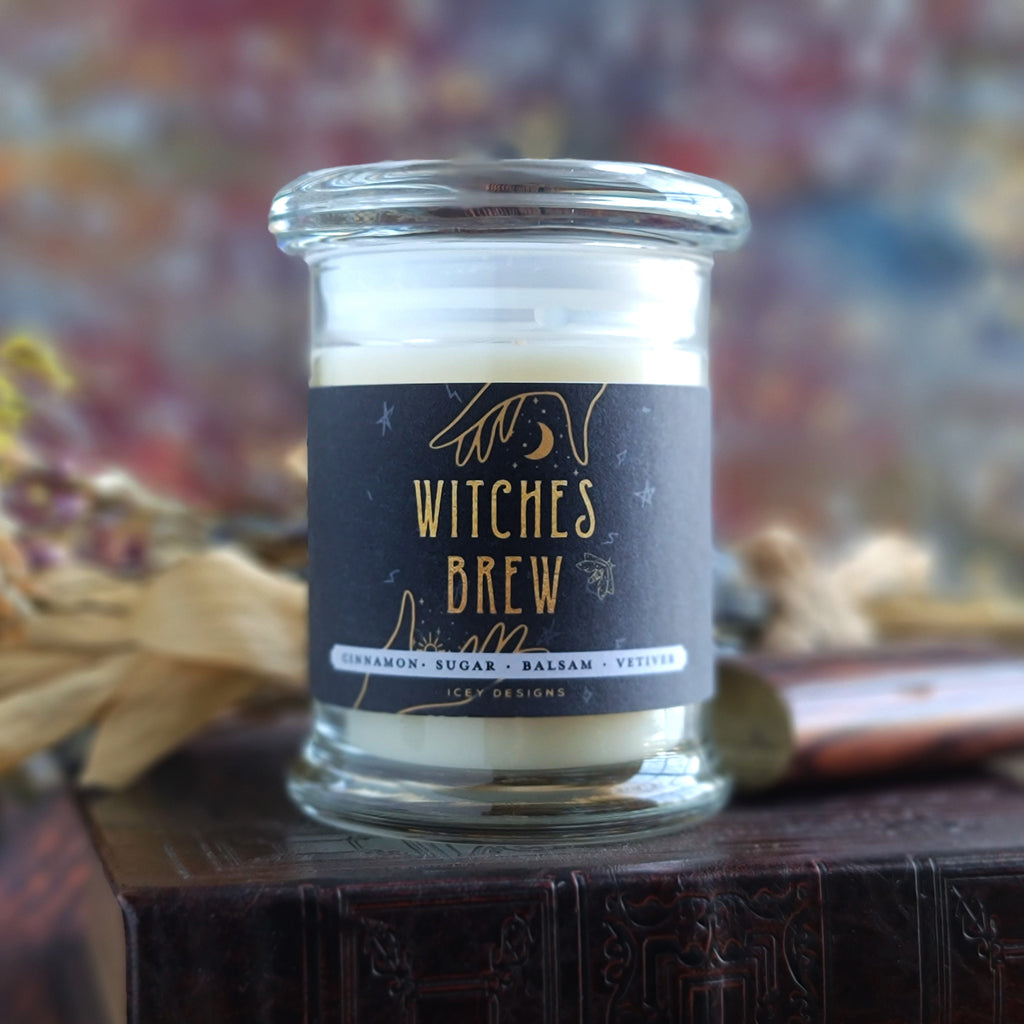 ---
NOTES: Cinnamon + Sugar + Fall Magic + Vetiver

Calling all witches! Light this up and sink into the fall vibes you've been waiting all year for. Featuring a very autumn scent, this is the perfect candle for October reading. We hired our local witch to sprinkle some of her extra fun magic atop this wax in the form of purple glitter, because we're all about the aesthetic.

Please note: the glitter will disappear into the air after the initial burn (toxic-free, of course!). 

The fancy jar features a wraparound matte label (perfect for photographs—no glare!), and an airtight lid to help preserve the scent. 

JAR MEASURES: 4" x 3"

· All-natural USA-grown soy wax and cotton wick for clean burning
· Pesticide/herbicide and toxin free
· Fragrance oils are free of paraben and phthalates 
· Burn time: approximately 30-50 hours
· Jar size: 8oz 
· Wax weight: about 7oz

CANDLE CARE:
Trim wick to 1/4 inch before lighting every time. Keep candle free of any foreign materials including matches and wick trimmings. Let candle burn long enough to melt the top layer—this will help prevent tunneling, which will waste your candle. Do not burn the candle for more than 3-4 hours at a time. To avoid glass cracking, do not burn the last 1/2" of wax in jar.

To get the maximum scent out of your candle, allow the top layer of wax to melt completely for a full melt pool. Sniff and enjoy!

CANDLE SAFETY:
To prevent fire and injury: Keep away from drafts, and burn on a stable, heat resistant surface. Keep out of reach of children and pets. Never burn candle on or near anything that can catch fire. Container may be hot when candle is lit. Never leave a burning candle unattended.
---
More from this collection